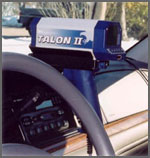 Falcon HR Handheld Stationary only Radar
From: $2,378.00
Description
The Falcon HR is a new K-Band radar system design with revolutionary low-power Directional Technology. The Falcon HR offers the functionality and durability of the higher-end radar systems at a fraction of the cost. The model 7000 features Stationary operation, Direction Sensing/Selection and Fastest Vehicle Mode.
GSA price: $765.84 S&H included within Continental USA
Options/Upgrades:
Part Number: 065-0089-01/1623
Ask about pricing.
Battery Handle.
---
Part Number: 7031
$160.00 plus S&H
GSA: $132.19
Falcon HR Radar Carrying Case. 
---
Part Number: 1701
$151.00 plus S&H
GSA: $124.75
Falcon HR Interface to Kustom Signals Video. 
---